2013 – Sea Caves, Shipwrecks and The Rocky Shore, Landmark Theatre, Ilfracombe?
Dave Green's visual poem to a hidden coast
Dave Green has been exploring, studying, and immersing himself in the North Devon coast and its history for the past seven years. For this photographer our coast isn't a stroll along a sandy beach on a summer's day, it is rather a hidden coast, found only through a vertiginous climb down a steep cliff path or by leaving the beach and trekking over seaweed-strewn boulders at low tide.
This is a wild coast, unpopulated by holidaymakers; the domain of seagulls that can make you feel quite unwelcome. It is also an historic coast when millions of years can be seen in the layers of strata of an eroded cliff face and the more recent past can be found in smooth rusting ship parts, in memorial of hundreds of wrecks, littering the rocky shore.
His latest exhibition, Sea Caves, Shipwrecks and The Rocky Shore, is, for him, a visual love poem written to the sublimely beautiful, hidden parts of the coast.
The "graveyard of the Atlantic", "sailors' grave", "cruel coast" or "iron coast", was so named for the tragic loss of life and ships, from the medieval times to the present, due to its massive tide, dangerous currents, changeable winds, sandbars, high vertical cliffs and rocky reefs.
Some of the images in this exhibition were first shown at the North Carolina Aquarium in the USA a year ago, under the title, Great Britain's Graveyard of the Atlantic. Since then many more have been added as Dave works towards another American show in September, where his work will tour the three maritime museums in North Carolina for a year.
Dave's images can be made up of more than 100 separate photographs, of different exposure, angle of view and framing, to give the detail from the deepest blacks to the brightest highlights in this extremely high contrast scene.
North Devon Journal, 07 March 2013
2012 – Great Britain's Graveyard of the Atlantic, NC Aquarium, Roanoke Island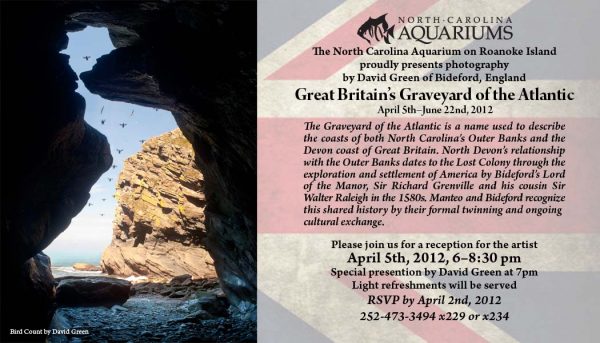 From across the Atlantic, the North Carolina aquarium on Roanoke Island present an exhibition of photography by David Green of Bideford, England. The graveyard of the Atlantic is the name used to describe the coasts of both North Carolina's Outer Banks and the North Devon Coast in the south-west of England. North Devon's relationship with the outer banks dates to the lost colony through the expedition and settlement of America by Bideford's Lord of the Manor, Sir Richard Grenville and his cousin, Sir Walter Raleigh in the 1580?s.
Manteo and Bideford recognise the shared heritage with a formal twinning ceremony and ongoing cultural exchange. The rocky coast and see caves of North Devon are a sharp contrast to the sandy shores of the outer banks. Greens stunning photography has grown out of seven years of exploration, study and immersion in the coast of North Devon. North Devon is within the Bristol channel, what was once called the Severn Sea, and experiences the second largest tidal range in the world.
This is a wild hidden coast found only through a vertiginous climb down a steep cliff path or by leaving the sandy beach and trekking over seaweed strewn boulders at low tide. It is also an historic coast where millions of years can be seen in the layers of strata of an eroded cliff face and the more recent past can be found in smooth rusting ship parts, in memorial of hundreds of wrecks, littering the rocky shore. Green?s American exhibition is funded in part by the North Devon area of natural beauty (A0NB).
The aquarium invites the public to a free reception for the artist on April 5, from 6 – 8:30 pm. A special program will be presented by green at 7 PM in front of the aquariums 285,000 gallon Graveyard of the Atlantic exhibit which features 1/3 size replica of the Outer Banks shipwreck the USS Monitor.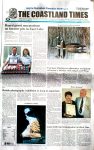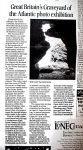 ?Great Britain's Graveyard of the Atlantic? will be on exhibit April 5 to June 22, at the NC aquarium on Roanoke Island and is included with the regular aquarium admission.
Front page of The Coastland Times, 3 April 2012
and in the OBX Sentinel
2010 – Workshop: Learn to paint with light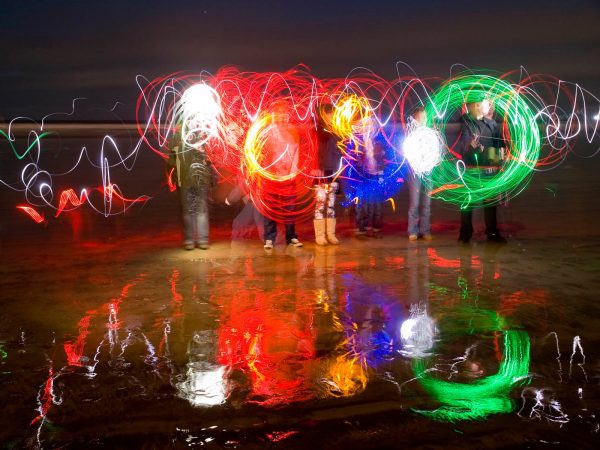 AN evening of creating long exposures while running about in the dark on the beach might sound like something you'd get arrested for. Add in some multi-coloured lights, waved about on pieces of string, glowsticks thrown in the air and shouts of "that looks fantastic" and passers-by could have been forgiven for thinking something very odd was afoot at Westward Ho!.
In reality, it was a workshop run by Bideford photographer Dave Green, teaching the mysteries of 'light painting'. This is literally a dark art, allowing you to draw in the sky with a torch, getting your camera to record every movement of the light.
Human-sized kaleidoscopes of colour can be created, or angel wings sketched in fresh air on to a willing victim's back. Abstract orbs of light can be made to appear, spookily hovering in mid-air, the images revealing themselves on the camera screen.
Dave loves running the course because, not only is it fun, the results are so unexpected.
"We can't see 30 seconds of time as a still, frozen image," he said. "When a group of people are learning the art there's that extra element of chaos to add to the excitement. Once people see the images they've created on their camera screens they're soon running around with torches and sparklers and coming up with ideas themselves for making interesting pictures. Time flies?"
Dave showed us various techniques for producing different effects, most of which involved a fair bit of dashing about on the sand, giggling, while swirling bicycle lights, cigarette lighters, torches and those multicoloured toys you get from the fun fair. We were having so much fun that a group of local teenagers, wondering what on earth we were up to, wandered over and joined in with us as enthusiastic models.
The thought of taking part in a photography workshop might sound intimidating to some, but Dave's friendly approach and infectious enthusiasm means that even if you don't know your aperture from your elbow you're safe to experiment and generate some cosmic looking pictures.
Keen amateur photographer, Richard Gabriel, who also took part said: "It was an enjoyable experience I would recommend to any photographer. It gave me something to think about and to expand upon."
Five hours in the cold and dark might not sound like much fun, but after being shown the artistic possibilities of combining light and camera in new creative ways we'd have been happy to stay out all night.
Rosanna Rothery for North Devon Journal, 25 March 2010
2007 – Exhibition: Solo Show, Queens Theatre, Barnstaple

Honing in on curious compositions, riveting rock formations, luminous light sources and invisible inspiration, Dave Green boldly goes where most of us wouldn't dare. The result of his creeping into caves and all places uncomfortable while clutching his camera is an astonishing body of work, now on show at Ilfracombe's Rendezvous Caf? at the Landmark Theatre. The exhibition not only constitutes a remarkable record of unseen places, but gives Dave's audience a truly unique visual experience: unless you're as adventurous as Dave, you quite simply won't have seen these things ever before. But that's only part of the story. All these photographs are, in addition, montages he's worked on in Photoshop image computer package giving us a surprising perspective, at times, which is strangely more convincing than it is challenging.
In his image of the Douglas Firs Bryce (right), for example, Dave has seamlessly fused about 30 different images taken in a narrow canyon in Utah, where several perspectives viewed simultaneously don't cause visual discomfort – just intrigue. The montage process effectively shows us more than we'd see at a glance – but with an authenticity that would be distorted by a wide-angle lens, Dave said. He explained: "I go to some lengths to try and include the process in my work. You can see the shape of a photographic frame, so you can see the size of the single frame and therefore you can start to deduce how many frames it's taken to make the picture, and that the picture's been made up like that. But most people will see the picture and think that it's just a single photograph of a cave. "He added: "I'm actually quite a purist as a photographer. I'm seeking the truth. I'm trying to record things accurately, truthfully, like a document, and that's a difficult thing to do when it could also be considered image manipulation. "There's also an environmental edge to Dave's work. He said: "Simply I feel that I need to record the wilderness, or the coastal strip we have here in North Devon because it is worth saving as it is. If enough people see how wonderful and beautiful, how sublime it is when it's free of oil, sewage, and all of the other pollutants, plastics and detritus, and there is evidence of a healthy ecosystem, we can strive to keep it as a national treasure. But if people don't know or can't see what we have here, there's a tendency to not worry about it. "After spending a year living and working in Tucson, Arizona, Dave was surprised to find inspirational parallels between the Wild West and North Devon. He explained: "I was looking for that sense of wildness and sense of space. On the cliffs and around the coast (of North Devon), to me that really is the last bit of wilderness we have in this country. A little coastal strip. It's very much as it's always been and that's a space I'm really drawn to. And of course the scale of it too – around here – is similar to what I was experiencing in the American west, where they've still got, like in Hartland, those massive vertical cliffs which are just a tremendous scale. It's hard to believe sometimes that that is in this country ?. you just look at it and – in America they'd obviously say 'it's totally awesome,' wouldn't they? "And so it is as depicted in Dave's photographs, with his photograph Shipload Grotto a particularly striking one. A question of being in the right place at the right time – however awkward – Dave said: "Those colours are still there on the wall, but it's also the fact that it's full of that kind of yellow, spaghetti-like seaweed and that is something that I haven't seen since – and I haven't really seen it around on beaches. There's even a little bit of green rope, which doesn't seem to be out of place either. "A photography lecturer at North Devon College and exhibiting artist for 12 years, Dave is clear about his motivation. He said: "It's very much a gut reaction, even in terms of teaching photography I'm quite against things like your rule of thirds – those kind of compositional things. For me it's always what feels right in the camera or when I'm in a particular place – it's as much an emotional response as anything else. "Dave added: "I just want to see what's there. I'm curious, I'm inquisitive. Especially places where it's not easy to get to. If you're involved in a certain amount of effort, I feel that it's more worthwhile. If there was a great thing to photograph at the side of the road I would just leave it, I wouldn't bother. But if it's meant an hour's hike to get there, and it's meant having to take my shoes and socks off, roll up my trousers and go through a few freezing cold rock-pools, then that will feel far more worthwhile. And of course I'm getting myself to a place that's far from the beaten track – it's recording something that other people aren't likely to have seen, I tell my students – half jokingly – that if I see they suffer for their art then I'm going to be more impressed. "You may think all this suffering for your art business is a bit much, but the work speaks for itself, and Dave put it in a nutshell: "I do it because I have to do it. I can't not do it. It's almost like an artistic calling. I think perhaps it's the same for a lot of artists – they don't really know why they do something; they do it because they feel they have to do it. It's almost as if I don't do it nobody else is going to be doing it.
Andrea Charters for North Devon Journal, 22 March 2007
2006 – Exhibition: Images from Within, Landmark Theatre Ilfracombe

?It should be said at the outset that the new work is a continuation of those years of production using photo-computer processes and materials as the artist explores and celebrates natural form and landscape in North Devon where he now lives and works. Some changes are apparent however as the artist and the work develops and the recent images finds the artist literally getting inside his subject matter in a fascinating and exciting way which I believe marks a new found sensibility and sensuality in his approach. The recent pieces can be seen as marking an important psychological/aesthetic shift in consciousness towards images that are darker, more intimate, covert and subterranean. Here what is exposed is less obvious, less accessible, that which is waiting to be discovered. In this work the artist takes us inside in a way which suggests a greater intimacy and a stronger recognition and celebration of the feminine, the mysterious, the hidden.
These images, which immediately command our attention, are taken from within caves along the North Devon shoreline with colours that are muted and sombre, mostly blues, browns, black and grey, darker images punctuated at the centre by a startling light from outside. They could be taken as strongly suggestive of birth experiences, of looking out towards the light perhaps from the birth canal. They can also be seen as evocative of (reported) ?near death' experiences where bright, dazzling lights are glimpsed at the end of a dark tunnel. The glittering rich texture of rock inside is lit by the wonderfully strong light from outside. These images could be seen to have strong sexual connotation also and it has been suggested that they represent the female experience of receptivity and of waiting. Certainly there is an echo of the archetype here with the velvety richness, the dark and the intimacy of the female body and its sexual creative function.?
– Peter Berry, extract from ?Images from Within' September 2006